RAZOR SCOOTER PARTS

Need Razor Scooter Parts? PartsForScooters carries a large selection of aftermarket replacement parts for your Razor scooter needs. We offer the popular parts for all of the Razor models including E-100, E-200, E-300, Groundforce Go Kart and much more including E-90, E125, E150, E175, E500, eSpark, Razor Trikke, MX350, MX400, MX500, MX650 Dirt Rocket, Dirt Quad, Dune Buggy, Crazy Cart, Pocket Rocket PR200, Pocket Mod, Mini-Chopper and kick scooters! Our wide variety of parts and accessories are for Razor electric scooters, electric bikes, electric go-karts, electric dune buggies, electric dirt bikes, electric quads, kick scooters, caster scooters, and human powered Razor products. We have replacement electrical kits, throttles, controllers, motors and much more for your Razor scooter needs!
How To Identify Your Razor Model Version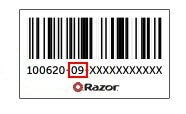 Most replacement Razor part fitment is based on your model version. Model versions can be determined based on your 8-digit Bar Code ID. The Bar Code ID can be found on many places including the battery cover, on the bottom of the frame, charger, stem and/or box. The 7th and 8th digits are the version number (e.g. "09"=version 9, "10"=version 10, etc.). Once you know your version you can safely order the correct replacement parts for your Razor Scooter!